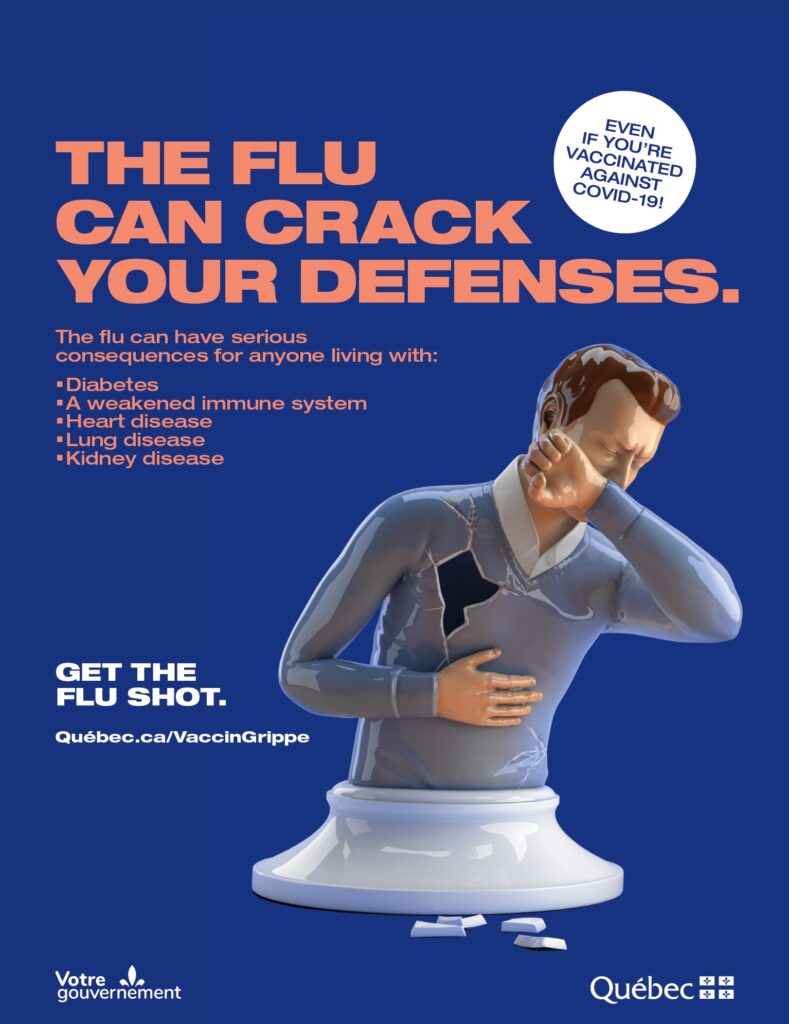 The flu vaccine is recommended and offered free of charge to people who are at higher risk of complications:
Children from 6 months to 17 years old who have certain chronic diseases
Adults who have certain chronic diseases (including pregnant women regardless the stage of pregnancy)
Pregnant women, in the 2nd and 3rd trimesters of their pregnancy
People aged 75 and over.
If you are between the ages of 60 and 74 and in good health, your risk of hospitalization or death from the flu is low.
If you are the parent of a healthy child age 6 to 23 months, the same is true for your child. The flu vaccine is thus no longer recommended for healthy adults age 60 to 74 or healthy children age 6 to 23 months.
However, if you still wish to get the flu vaccine or have your child vaccinated, you can do so free of charge.
Get the flu shot at the Clinic
The vaccination at the Clinic (Ash Avenue basement) is now complete. However, vaccination continues for users of home services as well as in high-rise buildings in the neighborhood.
Other place to get the vaccine
Vaccination clinic of the CIUSSS-Centre-Sud-de-l'île-de-Montréal
Basement of the St-Charles church, 2115 Center Street
Do you live in a high-rise apartment building?
The vaccination will take place in different towers of the neighborhood, by appointment, for residents only. Find out about your community manager afterwards.
Do you receive services at home or by appointment by a doctor or nurse?
You will be able to receive the vaccine during your consultation from November.
And do not forget !
Stay home if you are sick! Don't play the hero on your way to work if you have flu symptoms.
Influenza Vaccination: Myths and Facts
Here are some simple things you can do to prevent infection by one of the 'flu viruses:
Keep your hands clean by washing them regularly;
Cough and sneeze into the crook of your elbow;
Avoid touching your nose, eyes and mouth. These are points of entry for viruses and bacteria;
Since the viruses can survive on hard surfaces for at least 48 hours, clean surfaces touched by a person with the 'flu, for example, doorknobs, light switches, keyboards, computer mice, telephones and remote-control devices;
Avoid contact with people at risk if you have the 'flu.
Please note that the vaccine you received last year is no longer valid, because the flu virus changes every year.
You wish you a happy and healthy winter!