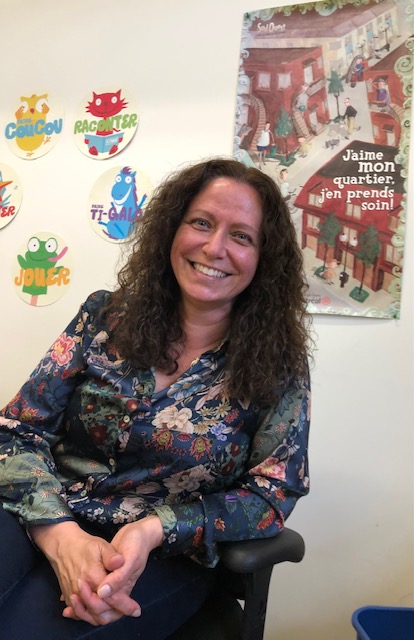 A social worker at the Clinic for the past 23 years, Maria Costa has taken on the role of Clinical Activites Specialist (CAS) since July 4. Created at the request of the Multidisciplinary Council, the brand new position will serve to supervise the various teams in charge of psychosocial intervention, social work, psychoeducation, psychology, nutrition, speech therapy, technicians in physical rehabilitation, as well as all non-medical health professionals working at the Clinic. Maria will supervise intervention teams, provide coaching and ensure the quality of practices, on top of making herself available for co-intervention in certain complex situations. She will also participate in committees, plan training, and have a role in supporting and implementing protocols, policies and projects. This new CAS position was created in response to the current needs of the Clinic, and is a pilot project which will have to be reassessed after one year.
Recognized by her peers for her deep commitment and extensive experience, Maria Costa was selected thanks to her great interpersonal skills. "Maria easily creates relationships with users and workers because she shows respect, listening and empathy," says Lina Hu, nutritionist. Bruno Swaenepoël, multi-service coordinator, believes that Maria has a special talent for keeping a broad view on the Clinic's various services. "She will definitely contribute to developing the quality of our services, will develop coaching and follow-up tools for our new team members, and will be an excellent guide. It is with great enthusiasm that we welcome her to this new role," he says. According to Gilles Gagné, social worker at the Clinic, "Maria is a woman of relationships, of conviction, and who has very beautiful people-centred values. Now she will work with us for the betterment of our community." Tamara Achtman, Advisor for Multidisciplinary Practices, considers that « this new position is perfectly in line with Maria's skills. Her knowledge and great desire to help will be a great support for the Multidisciplinary Council".
Maria would like to inform her colleagues that she will be gradually contacting them all in order to meet them individually. "I will also have the pleasure of seeing you as a team in the fall to find out about your needs and clarify my service offer," she says.
Three days a week, Maria can be found on Center Street, while she spends the other two days on Ash Street. Note that she can always be reached at extension 6246.
Congratulations Maria on behalf of the entire Point St. Charles Community Clinic team!