To protect yourself from the impact of hot weather:
Drink lots of water, don't wait to feel thirsty;
Close your curtains or blinds when the sun is blaring in and let the air in on cool nights;
Spend a few hours each day in a cool or air-conditioned place.
Limit physical activity.
Who is at risk?
When it's very hot, anyone can suffer from health problems such as dehydration, fatigue, dizziness, discomfort and heatstroke.
Some people are more vulnerable and can see their health deteriorate quickly:
People aged 65 or over
People with diabetes or chronic heart, lung or kidney diseases
People with mental health problems (especially schizophrenia and alcohol or drug addiction)
Children aged 0 to 4 years
People who live in heat islands are also a greater risk.
Take care of the most vulnerable
Regularly check on their vulnerable friends during heatwaves to make sure they are okay and to help them as needed.
In case of general discomfort, dizziness, fatigue, headaches, difficulty breathing, chest pain or swelling in the legs, contact a doctor or call Info-Santé at 811 for health advice.
In case of emergency, call 911.
Children 0 to 4 years old
To find out about precautions to take for children (PDF).
This document for parents and other caregivers of children 0 to 4 years old is available in other languages: arabe, bengali, chinois, espagnol, french, panjabi, tamoul, vietnamien (PDF)
When it's very HOT, your health can quickly deteriorate.
List of air-conditioned places, swimming pools and paddling pools in case of extreme or extreme heat
Pointe-Saint-Charles Community Clinic
500 avenue Ash: waiting room and basement available from 8 a.m. to 4 p.m.
1955 rue du Center: waiting room and basement available from 8 a.m. to 12 p.m. and from 1 p.m. to 4 p.m.
St-Charles Library:
1050 rue Hibernia: open Monday from 1 p.m. to 5 p.m., Tuesday and Thursday from 1 p.m. to 8 p.m., Wednesday and Friday from 10 a.m. to 5 p.m., Saturday and Sunday from 10 a.m. to 5 p.m.
Water games, paddling pool and swimming pool
Leber Park – water game available from 7 a.m. to 9 p.m.
Joe Beef Park – water game available from 7 a.m. to 9 p.m.
Carré Hibernia (behind the St-Charles library): Paddling pool open Monday to Friday from 1 p.m. to 6 p.m. (exclusive to day camps and daycares from Monday to Friday in the morning)
St-Charles swimming pool, 1955 rue Hibernia: open to everyone from Monday to Friday from 3 p.m. to 8:30 p.m. * reserved for day camps on Tuesdays, Wednesdays and Thursdays in blocks of hours from 12:30 p.m. to 2:30 p.m. ** reserved for adults, weekdays, 7 p.m. to 8:30 p.m. and Saturday 1:30 p.m. to 5 p.m.
Map of the City of Montreal showing the hours of operation of air-conditioned public places and aquatic facilities in the Agglomeration of Montreal that serve as cooling points during extreme heat.
Air-conditioned place if you have symptoms of COVID or if you are awaiting a result
Hôtel Dieu de Montreal, 109 avenue des Pins, room 108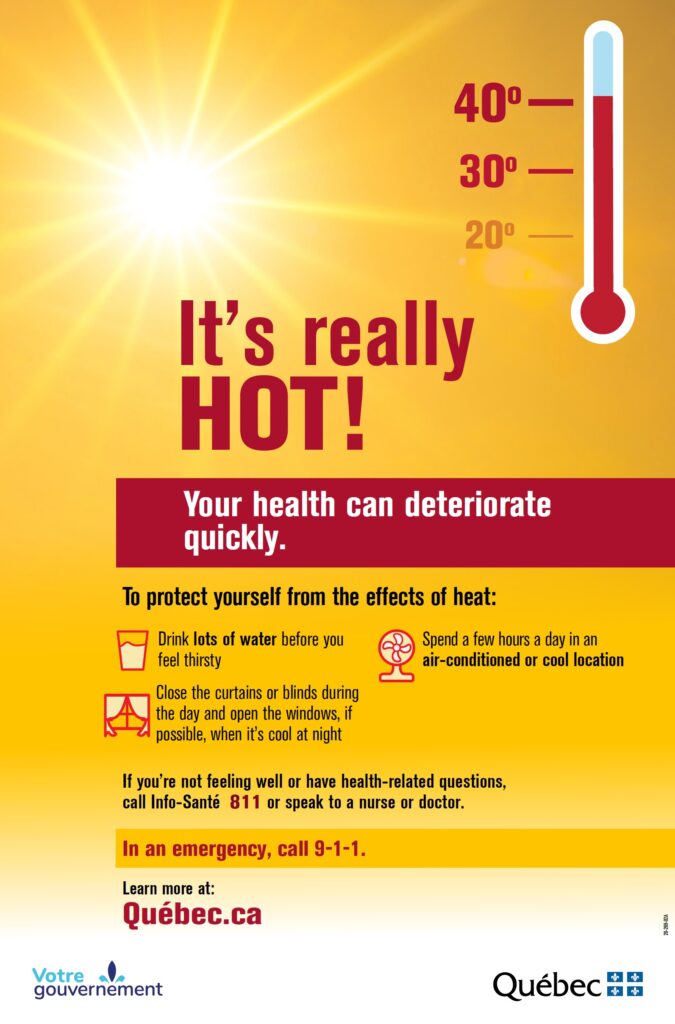 Help
For more information, see santemontreal.qc.ca/Heat!