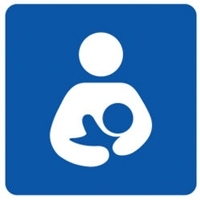 Come meet other mothers and share your breastfeeding experience!
Due to the coronavirus, regular breastfeeding drop-ins are suspended, however you can participate in Nourri-Source's breastfeeding drop-ins online!
Need advice or a truly personalized follow-up?
If you do not yet have a peer suport, we invite you to request it by visiting the Nourri-Source website.
Protect, support and promote breastfeeding
The commitment of the Pointe-Saint-Charles Community Clinic
The Pointe-Saint-Charles Community Clinic recognizes the importance of promoting and supporting breastfeeding because of the known benefits of this feeding method for the health of the child and the mother.
We support the independence and competence of parents. By adopting this policy, the Clinic aims to promote the best possible care for children, regardless of the feeding method chosen by parents. We help you to make a fully informed decision for yourselves and your baby related to infant feeding, and we will support you with your decision, whatever it is.
We respect the Baby Friendly Initiative, designed by the World Health Organization and UNICEF, by implementing the Ten Steps to Successful Breastfeeding and the International Code of Marketing of Breast-milk Substitutes.
Our commitment at the Pointe-Saint-Charles Community Clinic:
• Provide accurate information about the importance of breastfeeding and the practices that supports it.
• Support mothers who want to start and maintain breastfeeding
• Promote neighborhood resources that support breastfeeding.
• Encourage mothers to breastfeed exclusively for the first 6 months, and continued breastfeeding for two years or more, together with complementary feeding starting around sixth month.
• Avoid the promotion of infant formula and its accessories.
• Ensure that parents who use infant formula do it safely. This is a summary of the breastfeeding policy of the Pointe-Saint-Charles Community Clinic.
You can breastfeed anywhere, anytime at the clinic. For a more intimate place, ask a staff member.