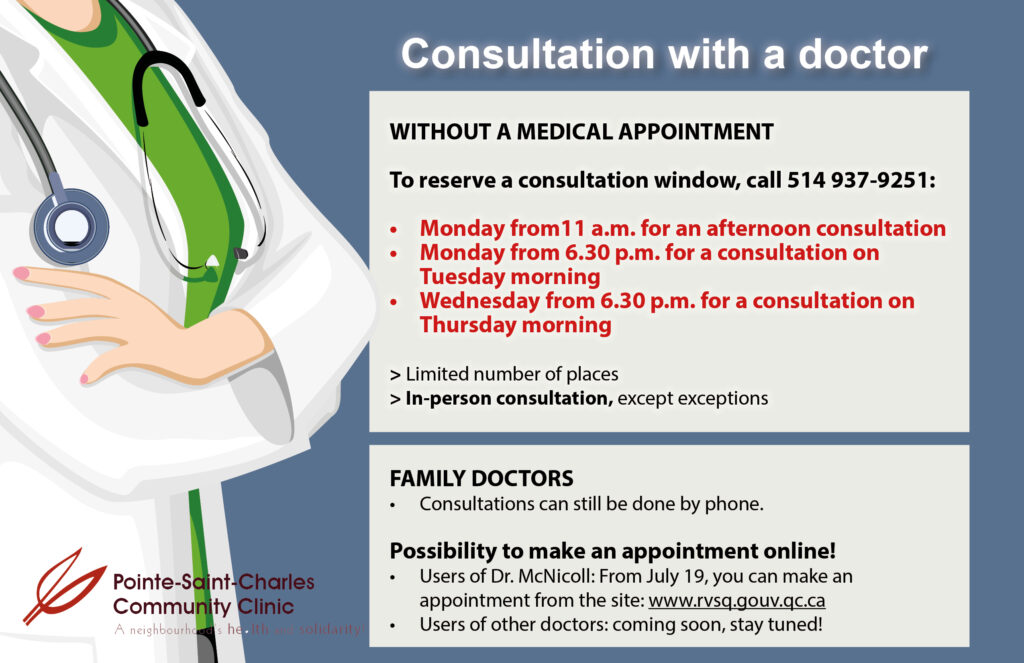 New way of seeing a doctor without an appointment
From July 5, 2021, to book a "walk-in" consultation window with a doctor, you must call the Clinic:
Monday from 11 a.m. for an afternoon consultation
Monday from 6.30 p.m. for a consultation on Tuesday morning
Wednesday from 6.30 p.m. for a consultation on Thursday morning
Leave a voicemail message and you will be called back to give you the time of your meeting in person.
In fact, following the directives of the Ministry to this effect, with some exceptions, consultations without an appointment with a doctor are now back. You must therefore be available to move quickly to the Clinic located at 500 Ash Avenue.
If you have a family doctor at the Clinic, please make an appointment directly with him or her and the consultation can be done by phone.
Making an appointment for a consultation with your family doctor: now available online!
Dr. McNicoll's users:
From July 19, users of Dr. McNicoll can make an appointment with her directly from the site: www.rvsq.gouv.qc.ca
For users of other doctors:
Online appointment booking is coming up in a few weeks, stay tuned!
Of course, it will always be possible to make an appointment by phone.